---
PROMOTES CIRCULATION: As you begin walking in these slippers you'll feel reduced pressure and tension which will enable increased blood flow!
BASED ON REFLEXOLOGY: Applies pressure on your feet to release impulses throughout your feet that are trapped by blocked nerves!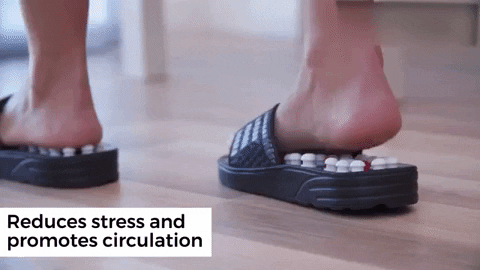 41 MASSAGE POINTS: These points act to trigger microelement acupuncture points within your feet to release tension all throughout your feet and body!
BENEFITS
LOWERS BLOOD PRESSURE: High blood pressure, also called HBP or hypertension, can be controlled with a regular foot massage. Studies have also found that foot reflexology may help reduce systolic blood pressure and triglyceride.
PROMOTES BETTER SLEEP: One of the benefits of foot reflexology is regular good sleep. A soothing and relaxing foot massage will help the body unwind, improve blood circulation and relax the nerves. These, in turn, will encourage restful sleep.
FIGHTS DEPRESSION: According to a popular Journal called Reflexology Therapy, foot massage through reflexology slippers, provides consolation, helping people to balance the need for stress and demands of daily life.
RELIEVES ACHES & PAINS: Foot reflexology also helps alleviate backaches. Schedule at least a 30-minute walk using reflexology slippers daily. Also, massage the soles and tops of your feet.