---
OVERALL CORRECTION - Shoulder Support Brace Pull back your Upper Back to the right position. And then improve your whole-body posture during work or life!
USE ANYTIME - You can use it not only when you are sitting on the computer or driving a car, but also when you are playing sports or gardening. What is more, you can use it at home when you are doing housework or watching TV!
ADJUSTABLE SIZE - Adjustment in sizes from 28" - 38" to 38" - 48" inches in chest circumference. The Posture Corrector includes a breathable and latex-free adjustment strap!
Benefits 
USE DAILY - This lightweight back support should be worn daily. The first couple of days wear it for 10-20 minutes only then add 10 minutes every day. Your back and shoulders will slowly adjust, and you will build muscle memory for the right posture!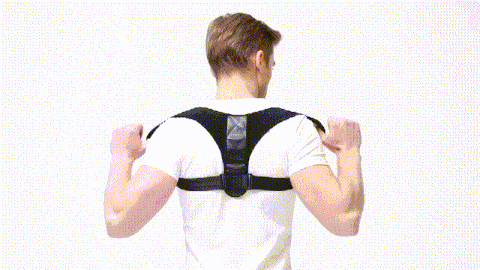 PRACTICAL - Posture brace filed with Lightweight neoprene can be worn comfortably under or over clothing. Correct your posture all day. You can put it on and adjust it by yourself!