---
 Trim Your Scruffy Eyebrows In Seconds!
STYLISH AND PORTABLE: This well designed stylish hair remover is easily portable. Its mini lipstick style makes it a considerate companion for your confidence and beauty, you can use it anytime and anywhere!
MICRO-PRECISION: Specially designed with outstanding precision technology. The precision tip helps remove unwanted hair by targetting the smallest areas to help you maintain perfect eyebrows. You no longer need tweezers!
EASY SHAPING: Designed for flawless eyebrow shaping. Instantly and painlessly remove unwanted and stray eyebrows, without irritation, blemishes, cuts, bumps or redness!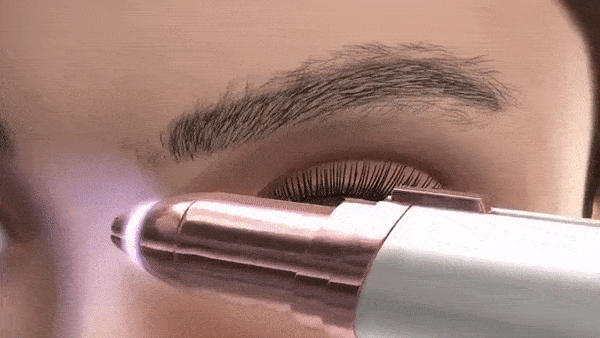 PRECISION HAIR REMOVAL: The precision hair removal tip is to be used on the top and bottom of brows and in between eyebrows, to erase unwanted and stray eyebrow hair.The perfect substitute for an eyebrow shaver!



Key Benefits 
SAFE AND PAINLESS: Comes with a built-in LED light! The 18K gold-plated head is hypoallergenic and gentle on all skin types. No nicks, redness, or irritation. Instantly and painlessly erase the extra hair, without the pain of removal! Perfect for sensitive skin!
EASY TO USE FOR ALL AGES: For optimal results, the electric remover should be used on clean, dry skin free of makeup or cream. Pull skin tight and move the unit in small, circular motions. Hold like a pencil, use like an eraser. Perfect for quick touch-ups!